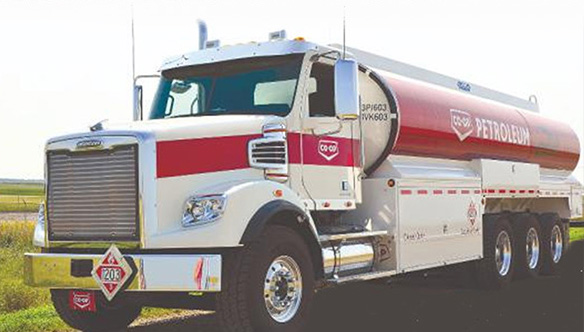 The Armstrong Regional Cooperative is looking for a reliable, positive & conscientious team player to provide excellent customer service to our existing and future bulk fuel customers while delivering fuel & lubricants. This is a physically demanding position requiring a strong work ethic and a positive attitude. The successful candidate will be computer literate, with good interpersonal, organizational & planning skills. This is a permanent, full time driving position with a competitive pay package including extended health benefits and pension plan. Without exception, this is a non-smoking position in a non-smoking workplace.
Delivering fuel to our customers primarily 5 days per week with occasional afternoon and weekend shifts, this physically demanding job requires a good attitude and exemplary reliability above all else. The driving team is especially busy during the summer months when our volumes double. Duties include, but are not limited to, load and day planning, fuel delivery, light computer duties, end of day paperwork and fuel reconciliation, occasional truck maintenance, problem solving skills and attention to detail.
To be considered for this position bring your resume and current drivers abstract to apply in person at 973 Otter Lake Cross Road, Armstrong during business hours and be prepared to fill in our job application. Please contact us to arrange alternate drop off details if business hours pose a challenge. This is a non-smoking position in a non-smoking workplace.
Benefits: Extended health care, Dental care, RRSP Match, Vision care, Vacation & paid time off, Life insurance, Company pension, Company events & social hours, Bonus scheme, On-site parking.